Instruments
A complete line of high performance dental hygiene instruments
---
Our Life Steel™ Instruments are designed to provide enhanced tactile sensitivity to help prevent repetitive strain injuries, fatigue and burn-out, while at the same time offering a sharp cutting edge that is easy for you to attain and maintain. All instruments are made in North America ensuring stringent quality control. Our Life Steel™ handles are made with top quality stainless steel with knurling specially designed to provide you with a secure grip, preventing slippage and possible injury to your client. Our high performance tips are manufactured with 440A surgical grade stainless steel, resulting in a positive treatment experience for your client. Our sharpening process ensures consistency, extendable sharpness and durability. D-Sharp d-Lite Instruments are designed to help you colour co-ordinate either your tray set up or your operatory! They are available in a variety of colours: pink, black, gold, red, green, bronze, blue

ORDER ONLINE
ORDER FORM
Implant Scalers
---
Effective preventive care is critical to the long-term success of dental implants. Due to the increasing acceptance of implants, dental hygienists need to know how to best provide care for peri-implant tissues using the appropriate instruments available. It's extremely important that the scalers and curettes which a dental hygienist selects to use around implants and abutments must not cause any damage or harm. The instruments must be clinically effective in the removal of biofilm and calculus formation without the possibility of gouging or causing surface distruption. Unlike the plastic and graphite implant scalers and curettes that are bulky, dull and provide limited success of debridement, the Athena Titanium implant line features medical grade titanium, which is the same grade of Titanium alloy as the implant and abutment. These instruments are durable, precise, have sharp cutting edges and are available in many different styles (Universal, Gracey's, Sickles). There are no sterilization limitations, are colour coded for easy detection and are available in 7 popular patterns which are sold individually or in a kit:
Barnhart 5/6TI, Gracey 1/2TI, Gracey 11/12TI, Gracey 13/14TI, H6/H7TI, 204STI, COL 13/14TI Kit contains: COL 13/14TI, 204STI, GR 11/12TI, GR 13/14TI

ORDER ONLINE
ORDER FORM
Sharpening Stone
---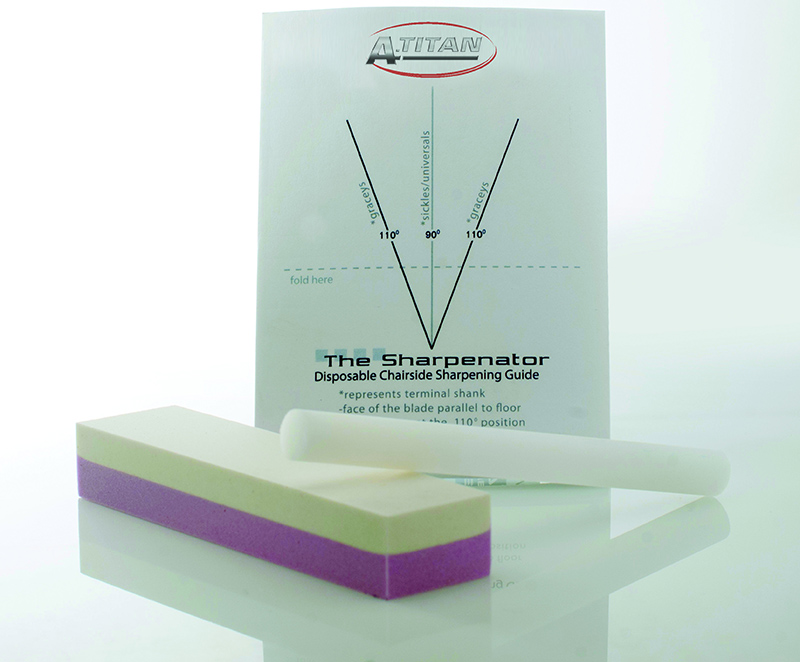 Our sharpening stones were designed by a periodontist especially for dental use, with the following advantages:
Non-loading - Metal particles do not become lodged on the surface.
Synthetic - Provides a controlled and consistent grit.
Autoclavable - Use chairside and then sterilize Edgemates along with your instruments.
Time-saving Instruments can be sharpened quickly and efficiently.
When sharpening instruments with conventional stones, metal fragments tend to lodge in the small voids on the stone's surface. In time, the stone's surface becomes glassy smooth and therefore ineffective. Before the EDGEMATE™, oil had to be used to fill these voids.
By always using sharp instruments, you will:
Save time - Scaling procedures can be done more efficiently.
Improve quality - Root surfaces are left cleaner and smoother.
Decrease fatigue - Less force is required for scaling and root planning.
Increase safety - With more controlled force you decrease the possibility of slipping.
ORDER ONLINE
ORDER FORM